Before the weekend is done it will feel like July. High pressure anchored off the Atlantic coast has a firm grip on the eastern United States and it shows! Daytime highs will reach the low to mid-90s by Tuesday and continue for most of the week. Enjoy today and tomorrow's mid-80s because we will make the 90s Saturday. There isn't much hope for rain in the mid-range forecast but the long-range is hinting at a pattern change in about 8 days or so.
Tropics: A non-tropical low-pressure system has developed with a broad area of cloudiness and thunderstorms about 600 miles east southeast of Bermuda. This system is not expected to be a threat to the southeastern United States.
Camp Habersham: Most of you know I work for the Georgia Emergency Management Agency as a Field Coordinator. For the last 13 weeks, each coordinator has been managing Mass Vaccination sites across the state. I have been serving as the site lead for the Habersham County Fairground site in Clarkesville, Georgia. Tomorrow, May 21, 2021, we will close our site. It has been a long 13 weeks but very successful. We have administered a little over 57k shots at this site alone. We have made new friends and we have all learned new skills. I am going to miss my Camp Habersham family but I am excited about returning to a more normal routine. Just in time for Hurricane season!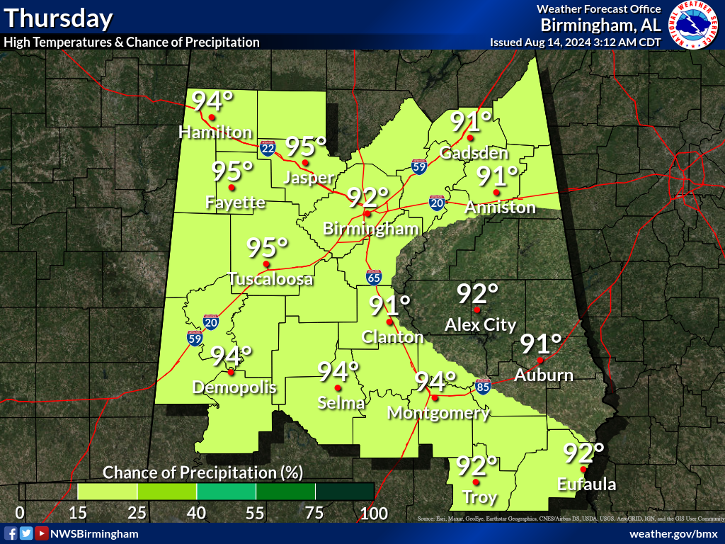 Habersham County MVS
East Alabama Forecast:
Today: Sunny, with a high near 83. Southeast wind 5 to 15 mph, with gusts as high as 25 mph.
Tonight: Mostly clear, with a low around 59. East wind 5 to 10 mph.
Friday: Sunny, with a high near 85. East wind 5 to 15 mph.
Friday Night: Mostly clear, with a low around 59. East wind around 5 mph becoming calm in the evening.
Saturday: Sunny, with a high near 88. Calm wind becoming east around 5 mph.
Saturday Night: Partly cloudy, with a low around 62.
Sunday: Sunny, with a high near 91.