Moisture Levels Rising: Moisture will slowly increase in the coming days but we remain dry today and tonight. A typical early summer weather pattern can be expected starting tomorrow and continuing at least through the weekend with scattered afternoon showers and thunderstorms. 
There is a slight chance of a shower tonight north of the I-20 corridor but for most of east Alabama, we remain dry until Wednesday afternoon with showers in the heat of the day. 
A Few Strong Storms: Strong to marginally severe storms are possible tomorrow for northern Mississippi, western Tennessee, and Kentucky. Most of Wednesday remains dry for east Alabama. A few scattered storms could develop late in the day but they will be few and far between. Even though severe weather can happen any time of the year in the south, our primary severe weather season is over.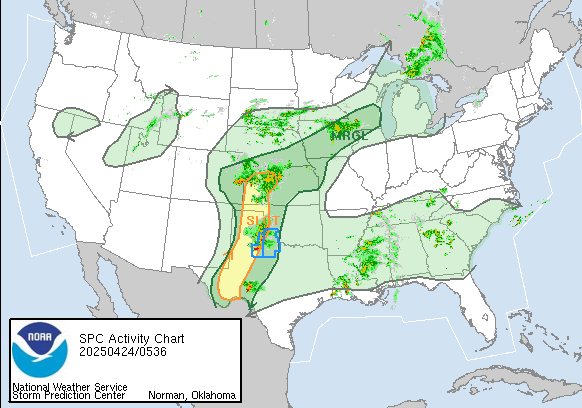 Early Summer Pattern: Thursday through the upcoming weekend will feature a summer pattern with pop-up afternoon thunderstorms generated by the heat of the day. We will see a mix of sun and clouds with periods of thunderstorms but it will not rain the entire period. While widespread severe coverage isn't expected, a strong storm from time to time cant be ruled out. Daytime highs will hang out in the low to mid-80s with overnight lows in the mid-60s. 
Hurricane Season Opens: The 2021 Hurricane Season officially gets underway today. The National Hurrican Center is predicting another active season this year. You can read their predictions here. 
The 2020 Atlantic hurricane season closed with a record-breaking 30 named storms and 12 landfalling storms in the continental United States. 
NOAA's seasonal hurricane outlooks accurately predicted a high likelihood of an above-normal season with a strong possibility of it being extremely active. In total, the 2020 season produced 30 named storms (top winds of 39 mph or greater), of which 13 became hurricanes (top winds of 74 mph or greater), including six major hurricanes (top winds of 111 mph or greater). This is the most storms on record, surpassing the 28 from 2005, and the second-highest number of hurricanes on record. Dr. Don's Weather will cover this years Hurricane Season with live updates if storms threaten our area.