With the aftermath of Mayfield, Kentucky still fresh in everyone's mind, please take a moment to make sure you have a Severe Weather Plan. Know where to go in your home or place of business in the event a tornado warning is issued for your area and know where your area is on a map! 
It is still too early to get specific but there will be an increased risk of severe weather across the southeast on Wednesday and perhaps again New Year's Eve into New Year's Day. 
For now, east Alabama and west Georgia are in the marginal risk category which is a 1 out of 5. A slight risk, 2 out of 5, covers much of central and west Alabama. It is certainly possible the risk could increase over east Alabama and west Georgia before the event unfolds Wednesday. Remain Weather Aware and Prepare!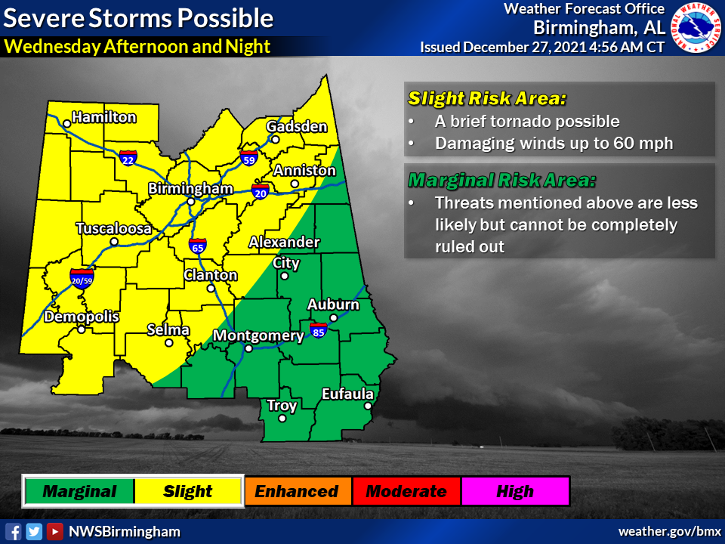 We start today with lots of fog in the area but that should burn off by mid-morning. We will go partly sunny this afternoon with highs in the low to mid 70's. 
There will be a few showers around on Tuesday but they will be of the scattered variety. 
Auburn vs. Houston – Protective Stadium, Birmingham: (11:AM Kick-off Tuesday) 50/50 chance at seeing a shower during the game. High temps will be in the low to mid 70's.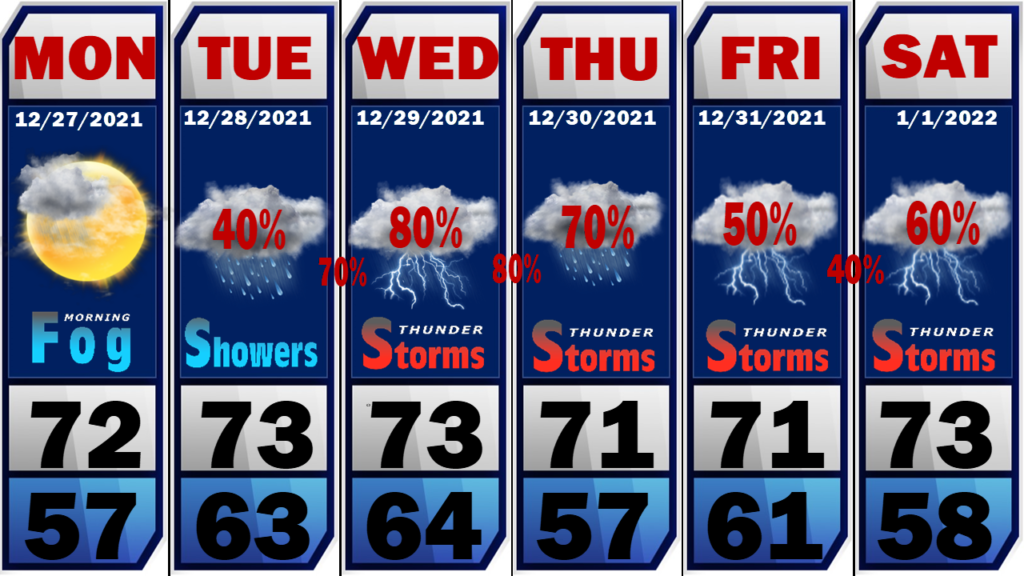 Thank you all for allowing me time with my family. We head to Birmingham today to get ready for the Auburn vs. Houston game tomorrow morning at Protective Stadium. I will be back in the studio Wednesday and ready to provide severe weather coverage if needed. Please take a moment to plan for severe weather. Who knows, this certainly could be a complete bust and we hope that it is. However, most injuries and fatalities are preventable during severe weather events by being ready! Get a NOAA Weather Radio, download a good severe weather app on your phone, and identify a safe place in your home and place of business. Get Ready!